Restoring sea cucumbers wild stock and improving women fisheries in Palau
Palau
Local Project
George Stoyle and Ebiil Society
---
Project news
---
Palau : Restor the wild stock of sea cucumbers
21 March 2023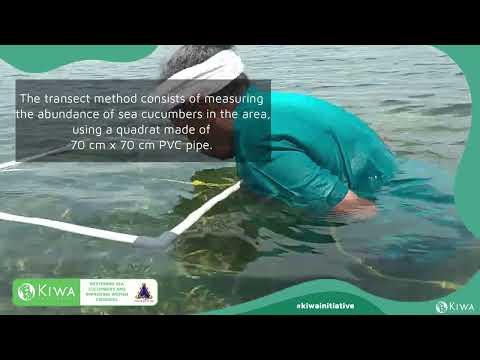 @ Kiwa Initiative
In Palau, the Kiwa Initiative is supporting a project to #restore the wild stock of sea cucumbers that includes improving nursing. Margie Olsudong and other women in her community are working with the @Ebiil Society NGO to increase knowledge and use of sustainable harvesting practices.
A source of economic income for the fisherwomen, sea cucumbers are also a valuable food resource that can help families in times of emergency, such as after a natural disaster like a cyclone, when crops are damaged. In addition, the sea cucumber plays a vital role in the maintenance of the sea bed by sucking up and filtering sediments, which improves the quality of the water and helps to restore the biodiversity of the environment.
Discover in this video the transect* method used by Maguy to count the number of sea cucumbers and evaluate their stock!
*Transect: a tool for representing space along an imaginary line that allows observation of the field, without a map or plan
Progress of the project
8 June 2023
@ KiwaInitiative
The World Oceans Day was a great opportunity for Sharon Truce, the marine program coordinator, to give us some news of the project.

Did you know? Sea cucumbers are a vital component of the ocean ecosystem, providing food for many species, and also a natural vacuum cleaner that keeps the sea floor clean. The Ebiil Society works closely with women and young women from their community, in this restoration work, by ensuring their growing stocks for future generations.

Watch the last updates of the project in this video: https://lnkd.in/eMn2Dhdz: https://lnkd.in/eMn2Dhdz
Project name:

Restoration of sea cucumbers wild stock / Women fisheries

Project Coordinator:

Ebiil Society (Inc.)

Amount of funding:

€ 100,000
This project aims to improve hatchery reproduction and nursing of ecologically, economically and culturally important sea cucumbers and to increase the number of women fishers involved in sea cucumber restocking activities in traditional fishing areas. The project also aims to increase knowledge and use of sustainable sea cucumber harvesting practices.
Project objectives ?
Improve hatchery spawning and nursing of sea cucumbers of high value and significance, ecological, economical, and cultural by end of year 1 in project (March2023).
Increase number of women fishers participants of sea cucumber restocking activities of traditional fishing grounds by end of year 1 of project (March 2023).
Increase number of sea cucumber in traditional fishing grounds by year 2 of the project (March 2024)
Increase knowledge and practice of sustainable sea cucumber fishing practices by year 2 of the project (March 2024)